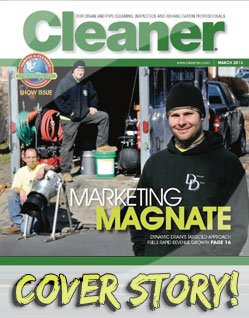 See the full article: Cover-CleanerMagazine-March-2013-fullarticle
Read it on their website by clicking this link!
http://www.cleaner.com/editorial/2013/03/marketing_magnate
Summary:
This article written by Scottie Dayton features Dynamic Drain's targeted approach to fuel rapid revenue growth. Owner Nick Santoni, Donald Libby and Wes Fogleman work on a job at the University of Virginia in Charlottesville, VA.
This article reveals Nick Santoni's inception of Dynamic Drain Technologies and it's rise to conquer high-profile projects including lining pipes at the National Gallery of Arts, The Smithsonian Institution, U.S. Capitol Building, Postal Service Buildings, University of Virginia in Charlottesville, VA and Theodore Roosevelt Island. Military bases such as the ever popular Quantico made the list of major plumbing jobs as well.
In June 2012, Santoni hired Mark Kolodziej as an SEO Marketing Consultant to facilitate search engine optimization marketing winning new business through online advertising. This approach doubled the company's revenue within six months. Marketing and sales are a part of Santoni's lifestyle. His team's attention to detail has contributed greatly to his success by earning the trust of contractors to bring him in on their jobs. His full and part time employees clean, inspect and rehabilitate pipes using the ambient cure Perma-Liner lateral system or hot-water cure MaxLiner system. Without worry he can send in his Vivax-Metrotech V Push cameras and trailer mounted Mongoose 184XL sewer jetter with nozzles from Stone Age to inspect clean and clear any pipeline. Then RS Tecknik pneumatic reinstatement cutter will re-establish any connecting laterals after the pipe has been relined.
Success with innovation includes the MacGuyver award for fashioning a push-rod cable system with high-powered magnets to retrieve forks and other silverware. Other sewer machines and hydrojetters wouldn't budge the metallic debris created in the mess halls that serve thousands of military personnel per day. They have also floated cameras through missing inverts by carving up foam footballs and fabricated custom welds to remove scale from sharp bends.
Dynamic Drain offers Fast, Efficient and Low-Cost service in Charlottesville, VA. Our drain cleaning technicians are trained to handle all your plumbing and drain cleaning needs including: clogged drains, plumbing repairs and more! Our Charlottesville service area zipcodes include: 22901, 22902, 22903, 22904, 22909, 22911.
Dynamic Drain Technologies of Charlottesville, VA is Your Local Charlottesville Plumbing Contractor. We specialize in pipe lining, pipe repair, cipp cured-in-place pipe repair, pipe cleaning and clearing and CCTV pipe inspections.
We would like to thank the folks over at Cole Publishing for organizing the article for our feature on the cover of Cleaner Magazine!