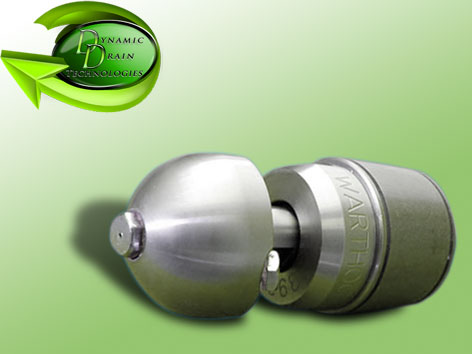 When it comes to using quality equipment, Dynamic Drain utilizes the top of the line equipment. Why you ask? Simple. Because if you have equipment that looks like junk and doesn't work, it's not making you any money!
Minimizing downtime is very important which is why we use the equipment that can avoid breakdowns. We want to make a good impression, so when a plumber calls or a homeowner brings us in to work on a job with them we pull up with something nice and do a great job. That way they will call us back!
Warthog Nozzles
Warthog nozzles are the plumbing industry's gold standard for emulsifying grease and shredding roots. There rotating nozzles have incredible pulling ability around corners, through traps and up grades.
The WARTHOG® uses a viscous fluid governor that will slow the rotating speed of the head, which allows the jets to deliver their full power against the pipe walls.
The angle of the front allows it to cut through roots, sediments, grease and other blockages with ease. The optional de-scaling heads also sharpen the angle of force against pipe walls in order to remove chemical deposits and rust.
Keg Chain Cutters
From the Micro Chain Cutter to the Supernova Chain Cutter there is not much that these high output torque cutters can accomplish.
Roots, scale, mineral deposits and years of hardened grease don't stand a chance against KEG Cutters. From 2 inch to 48 inch pipes we have a cutter that will tackle the toughest jobs and come out the winner.
Keg Nozzles
KEG products are the reasons our customers come back to us over and over again for their sewer cleaning needs. These unique "water driven" designs have special patented fluid
mechanics, KEG products produce great cleaning results, and typically use less fuel, man-hours, and water than competing products to get the job done.
This allows our staff to spend more time "in the line" cleaning and less time breaking down their trucks and refilling the jetter with water.