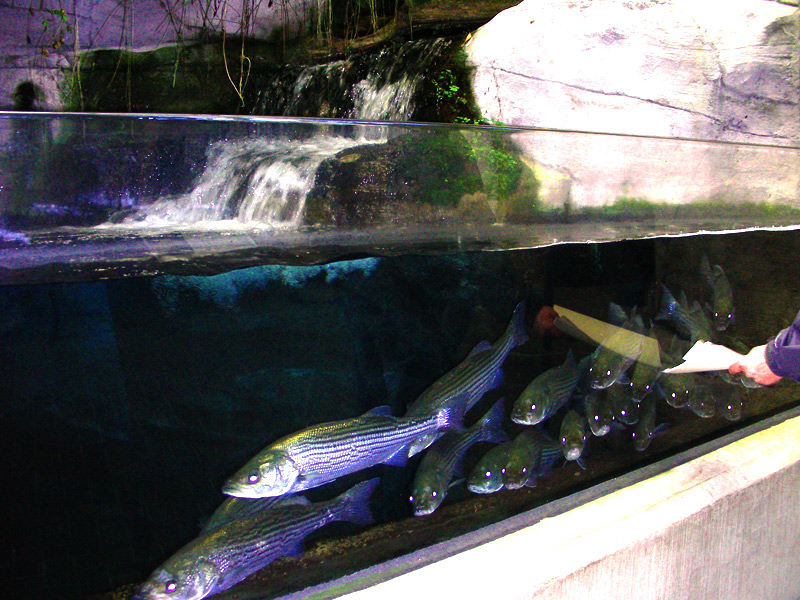 The Aquarium in Wilmington, North Carolina has been having problems with their storm drain pipes lately. For the past few months water has been backing up and drains have been not flowing correctly. They called us in to evaluate the situation and give them an estimate or at least a second opinion on their sewer repair options.
October 31st, 2012 – Our tour guide was quite scary!
Upon entering the aquarium we were greeted by our tour guide. The aquarium just finished up their Halloween festivities and still had remnants of scariness scattered throughout their museum.
Finding The Source of the Storm Drain Sewer Repair Site
We went to look at the main storm drain for the aquarium.
The Sewer Was Heavily Affected by the Tide Levels
The lowest pipe was submerged underneath the water level inside this basin. The other main concern was the amount of sand contained within a pipe from a previous pipe inspection. Not only is it extremely difficult to clean sand out of a pipe, but without being able to penetrate and pull the sand down the line, the pipe would have to have been cleared from up stream into a collection that is completely submerged where the water leads to in the end. This is called hydrojetting or waterjetting a pipe.
We went inside to evaluate the possibility of cleaning the drains from the inside access clean-outs and found that they were full of water as well. Small excavation pits were the only way to be sure that the pipes could be fully restored which is why we called in our buddy Ernest from Tideline Construction. The only problem is that the aquarium had just commissioned a new exhibit to be installed right where the pit would need to be and prevented us from being able to fully fix this problem.
Valuable Infrastructure
We toured the last bits of the valuable infrastructure and Nick was excited to make a new friend..
Who turned out not to be a very good friend at all..
Give us a call for a free evaluation of your projects and pipe repair or sewer repair problems and we will give you the best information as possible. We will never try and sell you something you don't need and always give you the most honest and professional answer possible. If we don't know it we have a friend that knows everything there is to know about your situation! 757-383-6611 Call Today!