High Pressure Waterjetting for Pipe Cleaning
We utilize a variety of jetting nozzles. Incorporating the power or Keg nozzles and more. These high pressure water jetters pressure wash your plumbing and drainage system from the inside out.
We have water jetter nozzles of all types specifically made to remove all kinds of dirt, debris and sludge hiding in your system.
Robotic chain cutters can remove rust, concrete, root infiltration and other hard to remove objects in your pipelines.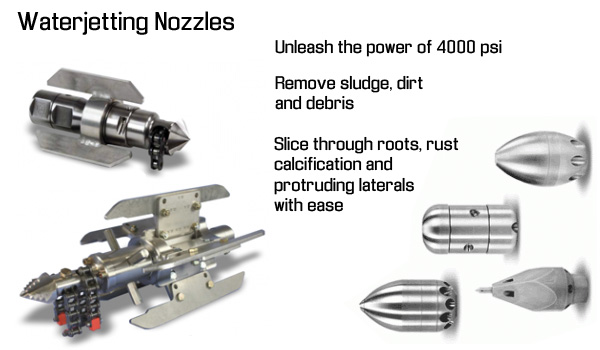 The Process and How it Works
Hydro jetting is one of the only ways to complete remove and pass F.O.G. (fats, oils and grease) tests.
The Benefit of Waterjetting for Pipe Cleaning
Waterjetting can solve tough product removal and surface cleaning by combining the latest in jetting machine and sewer nozzle technologies. We spend a lot of time keeping up to date with vendors on cutting edge products and services.
Our operators are fully trained to understand the difference between pressure versus flow and how to select the right nozzles for the job. We also teach them how to handle many different kinds of debris in a pipe as well as different pipe materials. Being able to identify the difference between a concrete pipe and asbestos pipe can make all the difference in the world.
Equipment and Maintenance for Pipe Cleaning
We use a Model 184 XL Mongoose Jetter which is a serious machine for a serious business. This is a premium quality machine and sets the benchmark on which all other jetters are judged.
Featuring two hoses, a quarter inch thick super strong hose built to withstand maximum working pressures and a half inch hose with it's own diesel engine power plant, this piece of equipment will get the job done. It also comes with a wireless remote for optimum supervision during the pipe cleaning process.
Sewer Nozzles – Along with the jetter we have invested in Keg and Warthog brand sewer nozzles built to satisfy the most difficult pipe cleaning conditions imaginable.[/vc_column_text][vc_column_text]
Combining Our Waterjetting and CCTV Camera Inspections
We went with the bigger jetter because we wanted something that not a lot of other people had.
We have other plumbers calling us when a legitimate problem exists that they are unable to negotiate. We also combine this technology with our state of the art CCTV camera inspections to form a legitimate business to business relationship.
We do this because we can actually show everybody that a legitimate problem exists so everybody knows your not just trying to sell them something. This is also the reason word of mouth is our biggest marketing tool!
Videos of Our Pipe Cleaning Service