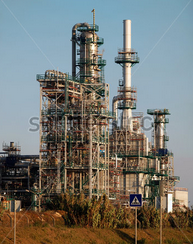 Our professional pipe repair services are a common practice in industrial facilities dueto their ease of mobility.
Many large factories and plants can not shut down for large excavation projects.
Some power plants and federal buildings have strenuous background checks, time limitations and special permits that limit the amount of staff that can work on these projects.
Our company employs highly-trained staff. We use only the best equipment and materials.
Our CIPP or Cured-In-Place-Pipe repair process is an easy three step process in most cases.
We inspect the line — a pipe inspection allows us to show you exactly what the problems are.
We clean the pipe — our high-pressure water jetter and array of nozzles and heads can clean any size pipe with ease.
We line the pipe — with a saturated epoxy liner from one insertion point.
All without digging up any pipes!
Common Industrial Pipe Lining Jobs Include
Factories
Refineries
Power Plants
Fisheries
Construction
Processing Plants
Large Sprinkler Systems
Recent Projects
Problem: Aging pipe infrastructure was causing backups in extremely tight locations. Security measures included time restraints, security clearance, background and drug tests for every employee.
Job Site: Nuclear Power Plant – Maryland
Problem: Extreme high tides due to hurricanes were causing backups at an aquarium and museum. This caused saltwater to destroy the cast iron-pipe system and leave sand and rocks in the system. In order to dig-up the pipes the city was faced with losing funding for a brand new multi million dollar new tank exhibit that had just finished it's third phase of construction.
Job Site: Museum and Aquarium – Wilmington, North Carolina
Damaged pipes, drain lines, sewer pipes, laterals and any other pipes can now be replaced with this low-cost trenchless technology. We no longer have to dig through your building or foundation.
We don't have to damage your parking lots or landscaping. You don't have to stop business or shut down expensive structures that will cost you money. We can repair pipe without damaging your property!
Other materials used in factories and buildings can be relined with a jointless, seamless pipe within a pipe. PVC, cast iron, copper, galvanized steel, Orangeburg, and/or fiber pipe (Bermico) that has been used in these buildings is all applicable.
As a long term fix that will add a minimum of 50+ years of life onto your lines, this pipe repair process can unbelievably be performed and finished within a few days.