Our pipe repairing company offers some of the most innovative technology to repair, seal, smooth, bridge, and replace damaged pipes.
It's our great pleasure to have worked with some of the largest corporations in the country, including The U.S. Capitol Visitors Center where we relined their electrical conduit systems in only 3 days.
Our Sewer Pipe & Drain Repair Services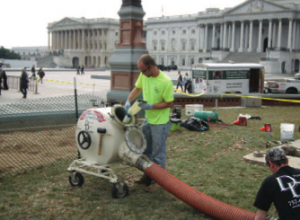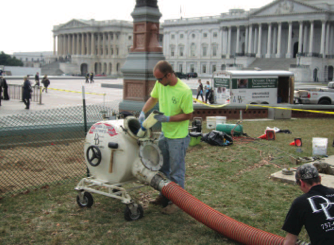 In Washington, DC we offer our premier sewer and drainage services to corporations, local businesses, and residential housing. By offering our assistance to fix your damaged pipes, we can help save you time and ultimately save you money on the cost of the damages.
We do this by not digging  into the ground, which helps preserve your property, takes less time, causes less of a mess, and is much more affordable than traditional excavation services.
The services we have to offer for your convenience include..
Pipe Inspection

Pipe Repair
Pipe Cleaning
Pipe Lining (CIPP)
If you have any questions about how our service works, you can call (855) 937-6944 for assistance and quotes.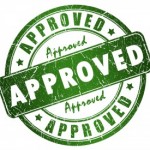 You'll receive a 50 year product warranty and 5 year workmanship warranty from Dynamic Drain Technologies, which is…
ASTM F1216  Approved
NSF Approved
IAPMO Approved
Who Has Used Our Pipe Repair Company in DC
We've been helping businesses in Washington, DC since 2008. During that time we've been able to build relationships with many well-known local contractors.
Some of our most prestigious work includes..
Relining Electrical Conduit for the Federal Government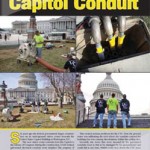 Our work on the capitol building in Washington DC allowed us to get the job done with minimal disruptions. The plumbing contractor brought us in to save time and money.
Not only are the requirements for a government job like this extremely stringent, the excavations that would have been required would have taken weeks. All employees would have to pass background and drug tests. Equipment would have been required to stay off site overnight.
There was also a time frame of three days is the maximum amount of time an outside contractor can work consecutively on any job. Not to mention the capitol building had to staff armed guards to supervise the work being done.
Fountain Pipe Lining at the National Gallery of Art

We were able to save this historic fountain from destruction with our no-dig process and allowed the cities maintenance department to save tons of money.
The fountain had 6 lines of ductile iron pipe that were completely corroded. Each line was sitting under 5-feet of precious granite marble and took an average of three days to carefully televise, clean and replace. There were multiple 4-inch, 8-inch and 10-inch lines that were causing water to leak into the museum. We repaired and relined the return and supply lines with ease.
The equalizing lines took the most time to prepare but we were able to fix the fountain pipe lines without disrupting the Museums normal flow of visitor traffic.
Vertical Storm Water Drain Repair at the Smithsonian Institution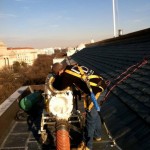 The Smithsonian had a broken 5-inch cast iron pipe that was leaking water into the columns and walls of the museum.
We were able to televise and clean the line.
We then were able to install a CIPP liner to one big long 110-foot line in one night. These pipes were running down historic columns and walls that we avoided having to break inside of  the Smithsonian.
Storm Drain Repair at the U.S. Post Office
The historic United States Postal Service building in DC had about 36 damaged cast iron pipes. To make things worse these pipes were encased inside of asbestos columns.
The lines were leaking and causing backups throughout the building. As we inspected the pipes we found multiple clogs being caused by aging lines that were completely rusted, corroded and cracked in multiple places.
Within three weeks we were able to completely unclog all of the existing piping infrastructure and install brand new lines without disrupting their normal business operations.
Fountain Water Line Repair at the Teddy Roosevelt Memorial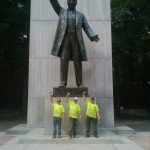 The Teddy Roosevelt Memorial had around a dozen 2000-foot ductile iron supply lines that were clogged and broken in several different places.
We were able to completely rehabilitate the collection of 4-inch supply lines in three weeks without digging or damaging the historic infrastructure.
Our Cost for Pipe Repair in Washington, DC
Since we need information on what type of situation you are currently in with your pipes, we'll need you to fill out a simple form (or call us at (855) 937-6944) so we can help better quote your project.