CVS Pharmacy has pipes that needed to be repaired. Our CIPP pipelining was the perfect solution for their sewer rehabilitation problems.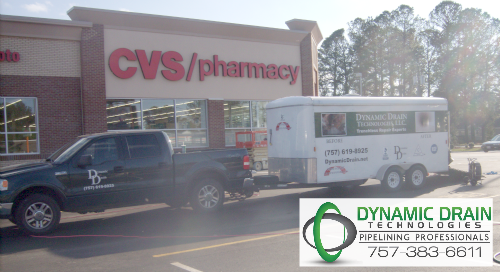 Their brand new store is located in Virginia Beach on Indian River Rd. The foundation had been set, parking lot finished and the walls, windows and electricity were being installed. Then came the bad news.
Sanitary Sewer Pipe Specifications
Unfortunately the ductile iron pipe that was used for the sanitary sewer systems had been identified as not having the correct specifications required by the International Plumbing code.
That's where we come in! East West Construction gave us a call and contracted us out to re-line the iron pipe with our trench-less cured in place pipe (cipp) repair technology.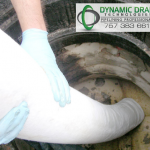 Digging the parking lots would have delayed the project by weeks and smashed the budget with costly excavation and paving repairs to the parking lots.
Dynamic Drain was able to pipeline the existing drains with zero digging. The liners were approved by the city of Virginia Beach and the CVS project didn't miss a beat.
Services Provided
Free Evaluation

CCTV Pipe Inspections

CIPP Liner Installation

Lateral Reinstatements with Robotic Cutter
Pipe lining & sewer lining saves time & money!
Check out some of our photos from our job in Virginia Beach in the video below: