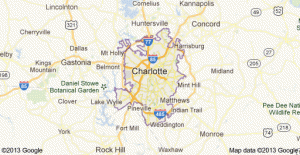 Dynamic Drain Technologies is happy to service the greater Charlotte metro area. We offer no dig pipe lining, pipe inspections and high pressure jetting.
We have been working in the Charlotte area for the last decade offering the latest cutting edge sewer and drain technologies. See below for some recent project profiles in the Charlotte, North Carolina region.
Waffle House Commercial Pipe Lining Project
Dynamic Drain Technologies was contracted by one of the larger Waffle House franchise owners to rehabilitate the 4″ cast iron in slab drains in one of its' restaurants.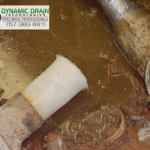 The project had to be done in one day to avoid costly downtime and we were only allowed to excavate one small 3×3 area to gain access to the drain lines.  
We were able to install 2 liners which equalled over 130-linear feet. We also were able to reinstate (6) lateral/service connections with no disruption to the existing slab and tile floors. The restaurant saved thousands in costly downtime and excavation costs.
Call us before you dig we offer free evaluation on all pipe repair  needs in Charlotte, NC. Zero Dig Pipe Repair. Pay less for pipe lining! Sewer lining saves time and money!
Review of our sewer pipe repair process
First one of our certified technicians performed a pipe inspection.
This helped him formulate an architectural blueprint of the sewer pipe including, depth, pipe composition, grade of pipe, blockages, any imperfections within the line and locations of all access points and clean-outs.
Always ask for a copy of your pipe inspection reports to have for future reference. Any reputable company will give you this to compare alternative repair costs.
We then introduced the power of our modified high-pressure water jetter into the pipe. This pulled out all debris that was caught in the line.
Our Warthog nozzle pulled out grease balls and other debris in the pipe with ease.
Our high pressure water jetter creates enough suction to pull heavy debris upstream.
Certified Maxliner and Perma-Liner technicians inverted soft resin soaked liners into the sewer drainage system.
Once in the line a tube was inflated inside the liner – in the pipe – holding the liner in place forming a perfect new pipe within a pipe in a few hours.
Our liners have a 50-year manufacturers warranty
Our robotic cutter was used to reinstate connections to the line. We watched the remote controlled drill with our pipe inspection camera to ensure perfect connections were made.
The robotic cutter was engineered specifically for this lateral pipe reinstatement on small scale drain liners.