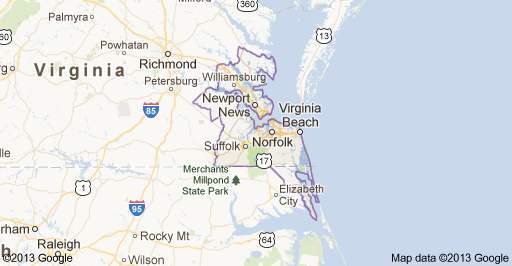 Growing up in the Virginia Beach area of Hampton Roads has allowed Dynamic Drain to form alliances with many local contractors and plumbers in the area.
Dynamic Drain Technologies is one of the only trenchless pipe lining companies in the Hampton Roads, VA area that has experience with municipal contracted pipelining.
In fact, we were able to perform a large sewer pipe lining job for a couple of CVS Pharmacies in Virginia Beach and Portsmouth that needed to have their pipes relined to meet city specifications.
Available Services for Pipe Repair in Hampton Roads
Our company offers a variety of sewer repair services that are tailored to fit your needs. If your home has failing sewer pipes or constant clogging we have the tools necessary to get your pipes back in action. Many local restaurants have utilized our FOG prevention program to eliminate fats, oils and grease that were causing drainage systems to backup. We were able to help Lynnhaven Mall reline failing sewer pipes without the need for major excavations.
The primary services that we provide to the Hampton Roads area include…
Pipe Inspections

Pipe Repair
Pipe Cleaning
Pipe Lining (also referred to as CIPP)
Pipe Inspection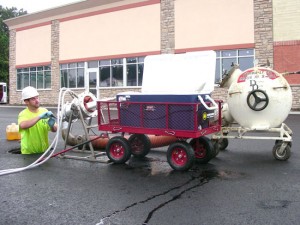 We are able to evaluate your piping needs and provide full-color pipe inspection reports along with documented blueprints of your plumbing and drainage system's infrastructure. Our reports include any problems within the pipes such as cracking or offset joints, pipe materials and depth and grading information. We can give you accurate comparisons of prices on trenchless rehabilitation methods versus traditional dig-and-replace pipe repair.
Cured In Place Piping (CIPP)
Our pipe rehabilitation services can dramatically increase the flow of your existing infrastructure with our one shot trenchless pipe lining installation process. The cured in place pipe (CIPP for short) forms a completely seamless pipe within a pipe. Once the liner is saturated with the epoxy resin, our inversion gun literally shoots the felt liner into the existing pipe. Once the liner is in place, a calibration tube in inflated in side the liner to hold the tube in place. After a few hours, the calibration tube is removed and you are left with a hardened pipe that is guaranteed to last a minimum of 50 plus years.