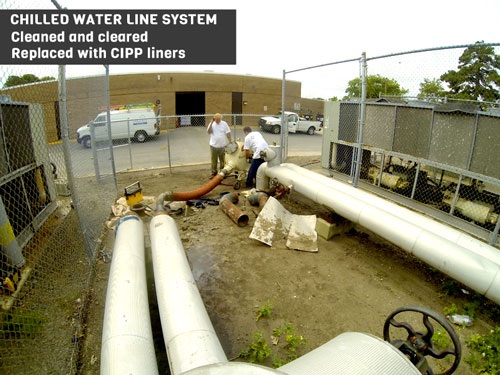 Rehabilitating existing water lines is crucial to maintaining a healthy chilled water system in large buildings. We installed (4) 50-foot long, 8-inch liners replacing the existing chilled water lines at Green Run High School in Virginia Beach, VA.

Chilled Water Line Repair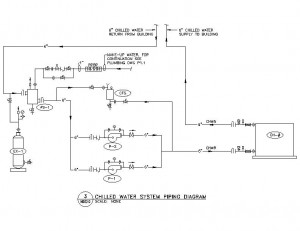 The water lines went from the outdoor condensers under the asphalt parking lot and concrete slab into the mechanical room. We repaired the supply and return pipes with CIPP liners.
These pipes bring in chilled water into the building to cool the building and it's occupants. This chilled water unit, also known as an AC unit is often used to cool a large building's air and equipment.
Learn more about chilled water systems on ask.com's wiki page here: http://www.ask.com/wiki/Chilled_water
Types of Chilled Water Line Systems
There are two types of chilled water line systems:
Site Generated
Utility Generated

Chilled Water System Rehabilitation Practices
When it comes time to replace the condensors on these chilled water units it is a common practice to renew the entire piping infrastructure. This has been a major problem in the past due to the large costs of excavation.
Sewer Line Repair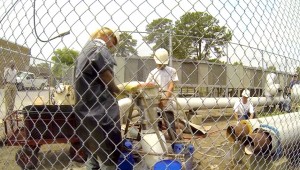 Our trenchless technology provides an extremely cost-effective and time saving procedure to rehabilitate existing piping infrastructure with cured-in-place pipe lining. CIPP is one of the newest plumbing repair methods on the market to date. Pipe lining is significantly faster than traditional excavation plumbing repair practices.
Plumbing Repair
When it comes to finding a plumber that can tackle this job there are a few types of plumbing repair methods to choose from:
Traditional Dig-and-Replace
Trenchless Pipe Lining or CIPP
Slip Lining
Sectional Point Repair
Each method has it's advantages and disadvantages. With traditional dig-and-replace, if there are no major structures between the surface and the piping infrastructure, digging and replacing is usually the most cost effective way to replace aging and broken pipe.
Trenchless pipe lining, slip lining and sectional point repair are all newer methods that utilize trenchless technology.
CIPP involves inverting liners into existing lines and curing them in place with hot air or water. This method can offset the costs of major excavation and downtime. Since there is no digging involved, business can continue as usual and existing infrastructure is completely preserved.
Pipe lining also increases the rate at which water travels through the pipe by at least 20% making for a much more efficient system.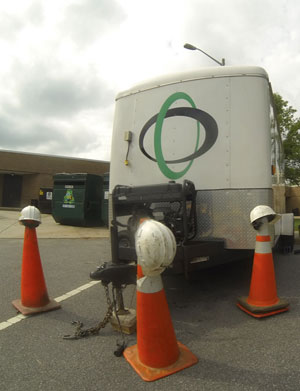 Did you know?
Did you know that Dynamic Drain Technologies has worked with some of the nation's largest facilites?
We have been brought in as a sub-contractor with many well known plumbing companies. We have repaired conduit infrastructure in Washington DC at the National Gallery of Arts. We we're brought in to repair aging pipe infrastructure at the Smithsonian and the Subway systems of New York. We pride ourselves on the quality of work we provide and are always looking for new opportunities to work with you on your plumbing repair projects.
Follow the locations tab above and check out some of our recent jobs!