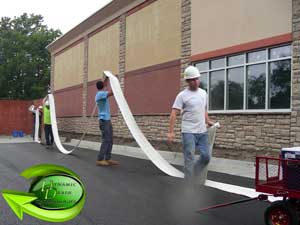 Trenchless technology is focused on sewer repair and pipe repair construction work that requires minimal digging and no continuous trenches.
It is one of the fastest growing communities in the 
construction
 and 
civil engineering
 industries. It has its own family of methods, materials, and equipment that allow you to replace or rehab new or existing underground infrastructure with minimal disruption to surface traffic, businesses, and other activities.
In the past only large scale applications were able to be dealt with using trenchless technology. Since 2000 the need for small scale pipe re-lining has pushed the technology and limits of small-scale applications to the max. Advanced testing and computer complied data has allowed engineers the ability to monitor and modify the liners and epoxies to fit exact specifications for any job. Liners can now be installed inside anything from wash-basin pipes suspended from the ceiling and going under priceless nuclear reactors while also being exposed to temperatures exceeding 150 degreees to frozen solid pipes consisting of ambient temperatures below freezing.
Trenchless Construction and Brief History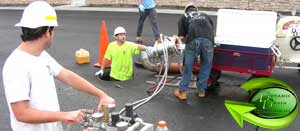 The trenchless construction industry encompasses many construction methods such as tunneling,  microtunneling (MTM), horizontal  directional drilling (HDD) or directional boring, pipe ramming (PR), pipe Jacking (PJ), moling, horizontal auger boring (HAB) and other methods for the installation of pipelines and cables above and below the ground with minimal excavation. Large diameter tunnels such as those constructed by a tunnel boring machine (TBM), and drilling and blasting techniques are larger versions of subsurface construction.
In order to avoid the danger of the surface caving in the size and type of drilling and blasting techniques must be engineered to ensure safety. In cases where the soil is sandy, the water table is at a shallow depth, or heavy loads like urban traffic are expected, the depth of excavation has to be deep enough so that the pressure of the load on the surface does not affect the bore.
Trenchless Rehabilitation
Trenchless rehabilitation can include a variety of methods such as sliplining, thermoformed pipe, pipe bursting, shotcrete, gunite, cured-in-place pipe (CIPP), grout-in-place pipe, mechanical spot repair, and other methods for the repair, rehabilitation, or replacement of pipes and structures with little or no excavation. Mechanical Spot Repair is applied where damaged pipelines require re-instatement of structural integrity. Sliplining, CIPP, and thermoformed pipe lining method involves pulling or inverting a new liner into an existing pipe, applying pressure and/or heat inside the liner to force the liner to expand to fill the pipe. CIPP technologies combine a carrier (felt or fibreglass) impregnated with resins that can be cured with heat, ultraviolet light, or ambient temperatures to form a "pipe within a pipe". Pipe bursting fractures pipe from the inside out and forces the fragments outwards while a new pipe is pulled in to replace the old. Other methods are primarily for fixing spot leaks. Trenchless rehabilitation methods are often more cost-effective than traditional dig and replace methods.
Industry Associations

The trenchless technology industry is represented by several industry associations and standing committees within almost every water and sewer related industry association. First off the National Association of Sewer Service Companies (NASSCO) was established in 1976 and remains the oldest such association with a focus on trenchless technology. The North American Society for Trenchless Technology (NASTT) was established in 1990. The Indian Society for Trenchless Technology or IndSTT is the apex organization to promote Trenchless Technology in South Asia. It was established in 1995 with its head office at New Delhi. The International Society for Trenchless Technology, established in 1986, has 25 active national trenchless technology societies associated with it. Several organizations bring out Technical Journals for sensitizing the readers about such techniques such as Cleaner Magazine and Trenchless Technology Magazine.
Lining Resins

Dynamic Drain utilizes many different types of lateral lining resins. These resins are the top of the line in the trenchless pipe repair industry. Our ambient cure resin is specifically formulated to meet the job site needs. We have formulated resins for all working temperatures. The epoxy resin is most-commonly utilized with a 3 hour cure time. The epoxy is pre-formulated and ready to mix on -site. The formulation is a 2-part mix. You simply measure the quantity of resin needed mix with the activation and introduce it into the liner. There's no waste of materials. Cured In Place Pipe (CIPP) epoxy is a 100% solids, non-draining, epoxy system for producing Cured In-Place Pipe applications. A single resin system with multiple choices for curing agent hardeners that can be adjusted for time needed and temperature etc.  CIPP systems have a proven track record in conjunction with felt or fiberglass liner materials.

Features & Benefits:
Rehabilitate underground pipes
Cures very fast with mild (120°F) heat
Trenchless repair of pipes
Effectively lines pipes and drain lines with a 90-degree bend
ASTM F-1216 compliant, adding value and assuring quality in the CIPP process Applications:
Applications requiring less invasive pipe system replacement procedures
Municipal, residential, commercial markets (manholes and underground pipe systems)
Trenchless, less invasive sectional point structural repair without digging
Lateral and sectional re-lining markets (homes, storm drains and sewer pipes)
Compliant NSF 61 system