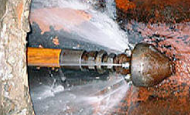 A cured in place pipe liner consists of two parts.
A felt tube liner that is soft to the touch
A mixture of epoxies
The CIPP liner material
This fiber reinforced fabric is manufactured to fit into a host pipe. This non-woven polyester cipp liner material has a hard layer on what is initially the outside of the liner itself. On the inside of the liner is a soft fabric that is able to soak up and hold the resin.
The cipp liner thickness is the same as it is when it hardens. The outer shell of the liner is coated from the manufacturer with a polymer film to protect the liner from dust and damage during transportation.
Epoxy Mixture
The epoxy mixture consists of two parts. A thermo-setting epoxy mixture that mixes two parts of A, which is the base. This can be considered the actual body of the resin. And one part of B which is the hardener and the accelerator of the mix.  The levels of hardener of and accelerator vary depending on the ambient temperature. The accelerator is used to speed up the hardening of the epoxies in colder temperatures.
CIPP liner installation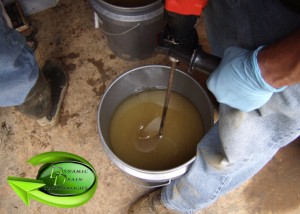 CIPP liners can be installed in any type of host pipe. They are mostly used to rehabilitate sanitary sewers. Circular and non-circular pipes can be lined with this cured in place pipe repair. If a line is oval or egg-shaped, ovoid or even box culverts, the line will mold and form to replace the existing pipeline.
Cured In Place Pipe Liners Can Repair
Cured in place pipe is also used on storm drains. Many times storm drains will have leaking joints or are cracked. Tree roots often invade storm drains and can cause major loss of money or revenue to large businesses and installations. Infiltration and exfiltration can cost a business money. Re-lining an existing storm drain will completely stop and infiltration and exfiltration from occurring.
Water and gas lines can also be preserved with cured in place pipe liners. Trenchless technology has become an industry standard when it comes to replacing existing water and gas lines. Any type of pipe that has effluents or fluids that are harmful to PVC, cast-iron or any other pipe material can be tested and remanufactured to hold-up and contain any chemicals.
The thickness of the cured in place pipe liner can be designed to sustain loads of varying pressure. Depending on the surface traffic, external groundwater, soil types and weight a liner can be chosen that will hold up to external forces.
Prior To Lining

To install a cured in place pipe liner, the pipe must be cleaned by jetting. This will remove any debris such as rust, sludge, roots and rocks. If a pipe becomes bellied or off pitch, this section of the pipe may have to be partially removed. A camera inspection will confirm that a pipe has been cleaned sufficiently to insert the liner.