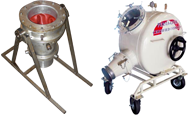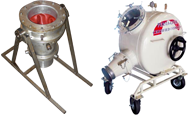 Save time, money, and resources with Dynamic Drain Technologies pipe lining.  Working in the Virginia-North Carolina-Maryland areas, Dynamic Drain Technologies offers the convenience of rehabilitating piping for commercial, industrial, municipal, and residential sewer pipes without the headache of unsightly excavations.  There are multiple reasons for using the services offered.
Cost
Bypassing the need for excavation Dynamic Drain Technologies is able to avoid the costs for large equipment and the labor to dig up the area to lay new pipes.  Plus there is no unsightly construction site making your parking lot or property unsightly.
Services offered
Besides fitting pipe liners these Class-A Contractors are able to inspect, clean, and repair anything from major pipes all the way to fountain piping and every type of pipe in between.
Technologically advanced
Unlike many other companies out there Dynamic Drain Technologies takes that technology in their name to heart.  By utilizing a remote controlled rover; think the sewer inspecting version of Argo that brought us real-time images of the Titanic, the professionals on the surface can take a close up look at every inch of pipe they are about to replace.
Reputation
With rave reviews and countless nationally recognized customers how can a company not afford to bring on what Dynamic Drain Technologies has to offer.  Check their website ( http://www.dynamicdraintechnologies.com/ ) to read the testimonials from satisfied customers.
They have worked with companies ranging from state agencies to museums to restaurant chains.  It would appear that they can successfully work with anyone who has a problem.
Cleaning
Sometimes the pipe does not need to be replaced right away, but instead can be cleaned with state of the art waterjetting.  Even when fitting a new pipeliner this waterjetting is used to clear out even the heaviest of clogs, ensuring a proper tight fit for the installed piping.
With a resume such as Dynamic Drain Technologies can put forward it is the wisest decision to take a look at what they can offer you.  Unparalleled service awaits you.  Give a call @ 1-855-937-6944 or check us out on the web @ http://www.dynamicdraintechnologies.com/
See what advantages a pipe lining from Dynamic Drain Technologies can bring to you.