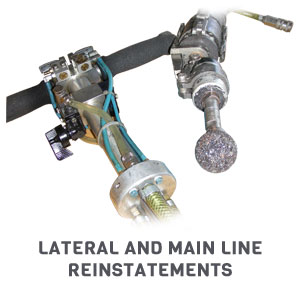 Does your insurance cover sewer repair? There are a few we have worked with tin the Aberdeen, MD area that were more than helpful when we asked about their coverage.
Our Experience
We have worked with plenty of commercial property associations and maintenance departments. Having a good working knowledge of how your sewer systems work can help you avoid expensive sewer and drain repairs now.
Keeping Your Sewer System in Good Condition
It is extremely important to be pro-active when it comes to taking care of your facilities. The last thing you want is a surprise in the sewer system to pop up and create a nasty mess. Regular pipe inspections are always a good idea to at least have an idea of what lies beneath your building.
CCTV pipe inspections can assure you that your sanitary systems are draining properly and smoothly. The last time we visited Aberdeen, MD our pipe inspections revealed many drain pipe problems that were 10 to 20 feet underground. Some of the repairs were simple fixes only requiring the use of our waterjetting services.
Trenchless Pipe Repair or CIPP
Trenchless pipe repair is often referred to as CIPP or "cured-in-place pipe" repair. Other methods have been known as sliplining, pull-in-place, pipe bursting and a multitude of other trenchless technologies.
Depending on the size and infrastructure of your property, trenchless technologies may be your best bet.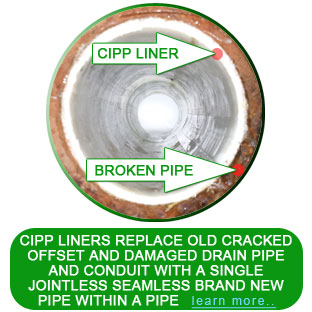 Ask a friend if they know any plumbing contractors that are able to perform these types of procedures. Often times, especially in the metro area of Washington DC and Maryland, this technology can be a great way to save money. There is little to no digging required and the contractors will not have to break up slabs to replace the pipelines.
Deep Pipes in Northern Virginia
We have found that many pipes in this area require contractors to break up slabs of concrete sidewalks, roadways and large flooring areas. This destruction costs a lot of money to coordinate with the city. Most areas of Northern Virginia are concrete jungles and require tons of excavation to simply replace one or two sewer lines.
With our trenchless technology we are able to use our Perma-Liner and Maxliner inversion heads to completely replace pipes without digging. This pipe relining process is simple and just as effective as traditional pipe repair methods.
Often times the flow of your sewer system will increase and have fewer backups since the liners contain zero joints and can smooth bends and offset pipes. These liners can even connect entire sections of missing pipe.
Reinstatements with Robotic Cutters
Does your system have T's or Y's in them connecting them to other lateral pipe lines?
No worries here. With our robotic cutters and professionally trained technicians we can navigate your pipes from the inside and cut out any pre-existing connections.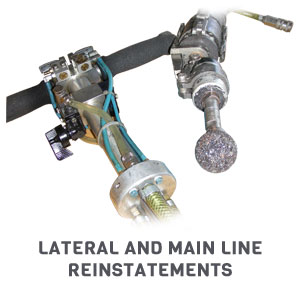 Our pipelines often last much longer than their design life, which is guaranteed by the manufacturer for up to 50 years. Feel free to call us on our toll-free number is you have any questions about our services and we will be more than happy to walk you through this new technology!