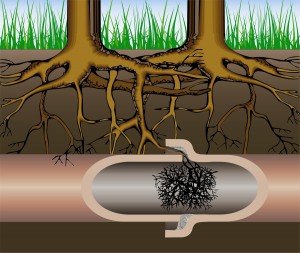 Ever wonder how much and who is responsible if you happen to have a sewer fail? It's a thin line between where your responsibility stops and the city's begins. The basic answer is, if it's under the street it's not your responsibility, it's the water company's. The lines under your home are your responsibility when a failure occurs.
Is there a sewer line repair program?
Yes there are programs offered that will offer protection against the deterioration of your sewer pipe lines. Failing sewer lines are popping up more and more often mainly due to old age. It is impossible to predict when a sewer line will fail and when they happen they are unexpected, inconvenient and costly. We have seen programs offer this protection for around $4/month. A usual residential sewer line replacement is upwards of $2,000 if there are no complications.
Many things can cause problems with sewer lines
If a sewer line breaks or fails a common pipe inspection will be able to show you the extent of your problem. Invasive tree roots, pressure from a growing tree, disintegrating pipe, shifting foundations and more can cause sink holes and unpleasant odors to get all up in your yard. Signs of sewer line failures can include collapsing or soggy lawn syndrome, collapsed or recessed sidewalks and driveways and any other types of possible seepage.
Know Your Options
Do your homework. Ask a certified plumber if they will give you a copy of the pipe inspection so you can obtain multiple estimates. Don't go with the cheapest option.. many times a cheap offer will amount to more problems than they are worth. Talk to someone that makes you feel confident that you are getting the right job done.
There is a new way of replacing pipe that includes inverting a liner into existing pipe and curing it in place without digging. The technology has advanced to the point where it is a viable option in many residential situations for a very competitive price depending on the situation. Our small scale applications work well in any residential, commercial, municipal or industrial place that wants to considerably reduce down time and damage to existing structures.