Insituform Technologies is the worldwide provider for trenchless cured in place sewer pipe repair technology or CIPP. They focus on large scale pipe rehabilitation. On January 29, 1975 Eric Wood applied for a U.S. patent for his cured-in-place pipe technology. He called the process "insit u form", which is Latin for "form in place". He was granted his patent and commercialized Insituform Technologies.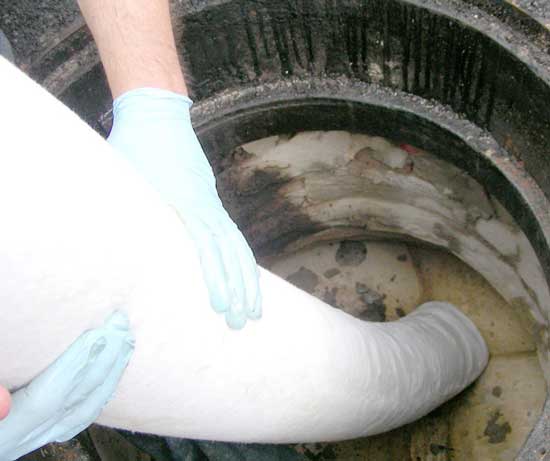 The CIPP process
This "no-dig" process starts with a resin-saturated felt material made of polyester. It is either pulled or inverted into a damaged pipe using a Perma-liner or Maxliner gun made especially for small diameter pipe repair. We are certified MaxLiner and Perma-Liner installers. Little to zero excavations are required in this trenchless pipe lining process. Since there is no major digging required the cost of this pipe repair process is reduced greatly. It is also very environmentally friendly over dig and replace sewer repair methods. Once the liner is in place the liner is cured by inserting a calibration tube that holds the Insituform style CIPP liner against the host wall. It will either cure under ambient temperature or hot air, hot water, steam or UV light can be introduced into the calibration tube in cold weather.
Service laterals are re-instated with robotically controlled cutting devices. Our RS Technik Mini Reinstatement cutter can carve our lateral junctions in this trenchless pipe repair process. These lateral junction repairs can be sealed with additional seals into the lateral connections.
Before the CIPP process can be implemented, a CCTV pipe inspection must take place before anything else to evaluate the sewer pipe, drain pipe or conduit pipe. This closed-circuit television inspection can detail any imperfections within the pipe. It will also show if there are any tree root infiltration sites, sags or bellies, scale build up, rust and/or any clogs that may be blocking the path of the pipe. Once the pipe has been inspected and if necessary, cleared and cleaned with our high-pressure watter jetter or hydrojetting machine, the CIPP liner may be installed.
The liner is often installed through a manhole or existing access point. CIPP is a smooth continuous pipeline. There are no joints and it can negotiate up to 90 degree bends. CIPP used in sewer repair applications can eliminate infiltration and leaks in pipeline systems without digging.