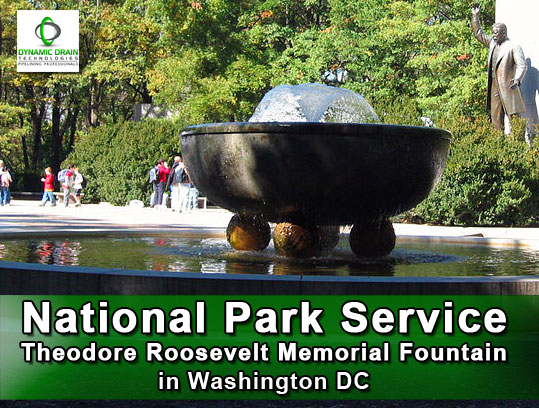 The National Park Services manages many national monuments in the United States. This particular monument in Washington DC was plagued with broken pipe lines.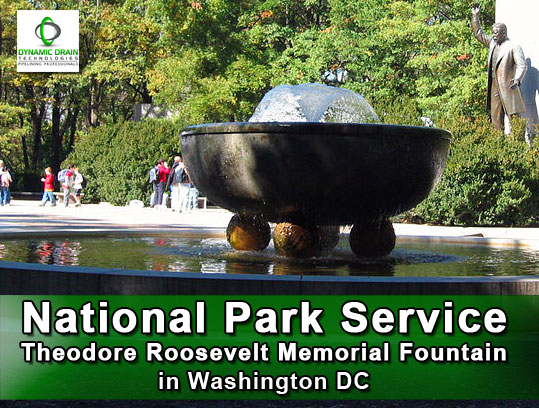 National Park Service – Theodore Roosevelt Memorial Fountain in Washington DC
As one of our largest federal and government contracted clients, the National Park Service came to us for our reputation in the DC area as the 'go to guys' for pipe sewer and drain repair services in Northern Virginia. We have helped their Facility Maintenance & Operations staff many times to lower their External Administrative Costs.
Learn more about the Theodore Roosevelt Memorial Island in Washington DC here: http://en.wikipedia.org/wiki/Theodore_Roosevelt_Island
Park Support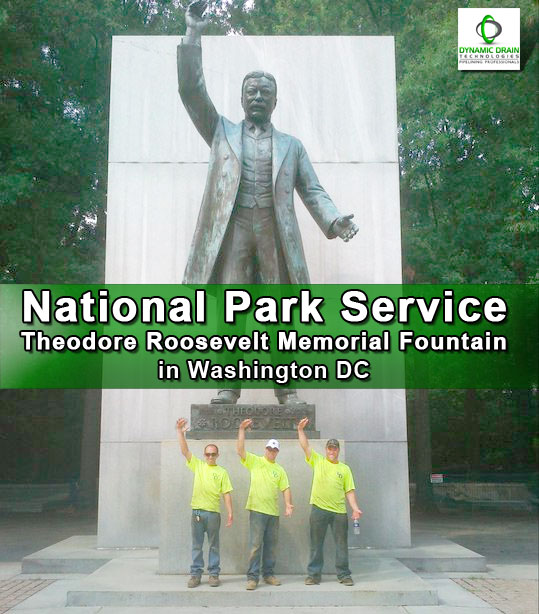 Our technicians were able to help maintain the fountain pipe lines and repair them completely with our trenchless CIPP technologies.
Our services offer a great deal of park support to keep visitors happy and out of harms way during the pipe repair process.
We are able to do this because our sewer repair contractors can:
Minimize unsafe facilites
Replace pipelines with zero dig technology
Preserve infrastructure
Reduce downtime
Save money
Work within state grants and budget guidelines
Preserve natural and historic cultural resources
Offer alternatives to compare plumbing costs of traditional pipe repair contractors
Geography and Natural History
Located in the Potomac River and entirely inside of the District of Columbia, this monument features a beautiful fountain with a statue in the background. Paul Manship sculpted four large stone monoliths with some of Roosevelt's most famous quotations and two large fountains on the island.
This island is constantly threatened by tidal flooding due to storm surges and large amounts of rainfall affecting many of the islands piping and plumbing infrastructure.
Access
The Island is only accessible via a footbridge and northboud lanes of George Washington Memorial Parkway. This makes large scale pipe repair jobs difficult to manage.
Our mobile pipe repair unit is the perfect fit to repair the Islands pipeline infrastructure. Our system includes many high grade CCTV pipe inspection systems that provide high-quality resolution specs and videos to our contracting partners.
Also, our pipe cleaning and clearing unit is fitted with some of the country's most advanced jetting nozzle systems available. Depending on the situation our technicians can clean and clear any type of piping problem with ease.
The robotic reinstatement cutter is able to break through any collapsed pipe or concrete protrusions within the line.
CIPP Pipe Lining
The CIPP pipe lining process repairs pipe from the inside out without having to dig up the pipes and replace them.
A felt liner is saturated with a two part epoxy and then inverted into the broken or damaged sewer pipe or pipe line.
Once inside the line, a bladder filled with hot air or water is inserted and inflated to force the liner against the walls of the existing pipe.
Once the liner is in place the epoxies begin to cook and cure in place in a matter of hours.
This forms a brand new, jointless and seamless pipe within a pipe. The rate of flow is greatly increased and any infiltration or exfiltration is completely eliminated.
Video:

 Pipe Repair with Cured In Place Pipe CIPP Lining – Trenchless No Dig Solution

Check out this video on YouTube. This is a short version of how our pipe lining company installs a CIPP liner.
Actual Footage:

Installing CIPP Liner in Charlottesville

This is actual footage from a pipe lining job we did for the facilities maintenance department of the University of Virginia. Check it out this is a great video!