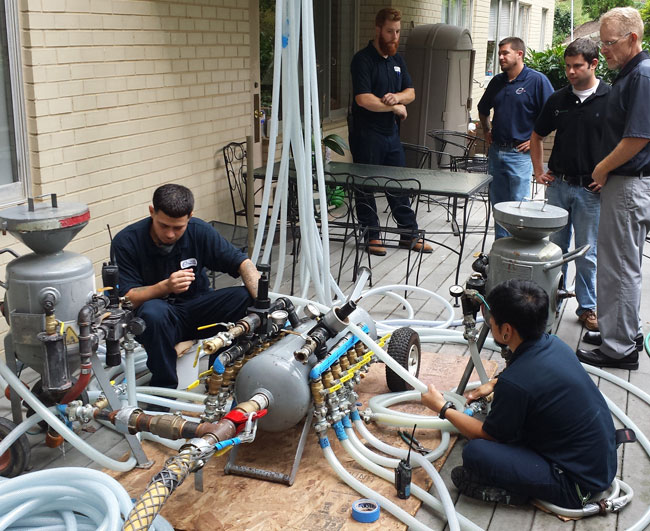 We were invited to see the CuraFlo epoxy pipe lining process at an apartment complex in Washington DC. The CuraFlo process was invented to safely and non-invasively rehabilitate piping systems eliminating the need for a costly, invasive and messy repipe projects.

CuraFlo Mid-Atlantic out of Frederick, MD has been servicing large buildings in the Northern Virginia area with their pipe restoration services. They are members of many Washington Metro area, Northern DC and Maryland Associations and Chapters. They have also received many accolades for their quality of work and attention to detail.
Check them out online!
You can visit their website here: http://www.epoxylining.com/
Also they sent us this great article detailing some of the past jobs they have completed in the area: http://viewer.zmags.com/publication/b964d4aa#/b964d4aa/42
In the article they go over the process of water epoxy pipe lining and past project descriptions such as:
What is Epoxy Lining?
Three Easy Steps
Their Proven Track Record
Who Can Benefit from Epoxy epoxy pipe lining
Project Profiles Include – The historic Westchester in Upper Northwest Washington, DC, Middletowne Apartments in Laurel, MD, The Berkshire in the District and more…
Impressive Compressors
The first thing we looked at were there giant compressors that power the customizable manifolds and vacuum systems that clean, clear and line the water systems. They have the same engine as a Mercedes and provide all the air pressure needed to control the volume of materials being pumped into the systems.
Powerful!
These manifolds are connected to every sink, toilet and water supply line in the building and are capable of cleaning as many lines as needed at the same time.
Distribution of Lining Materials
The stage we were able to witness was the cleaning of the water supply and return systems.
They were using a special grade of small sand particles that were being added to the system to remove any impurities in the lines.
Their technicians go through rigorous training courses to learn how to operate these complex manifolds.
Benefits of Epoxy Pipe Lining
A domestic water system can benefit from this type of epoxy pipe lining. From what we learned from our day with CuraFlo was very educating and answered a lot of questions about the process, benefits and pitfalls associated with this technology.
Every job they work on is extremely professional and very well thought out. They even give presentations to current residents and building tenants to clarify any concerns they may have.
What are the Hazards?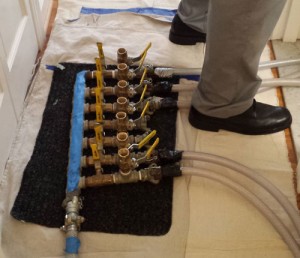 One question people ask a lot is if the epoxy is hazardous to the drinking water. This apparently is not a problem due to the fact that the cured liner has been tested and approved to contain zero toxins of any kind.
It also reduces the amount of contact with copper or cast iron that is aging and becoming oxidized in the systems.
Taking Care of Tenants
Another concern is that property management will have to relocate residents for the duration of the repairs. With this CuraFlo technology residents and tenants are able to stay in their homes with minimal disruption.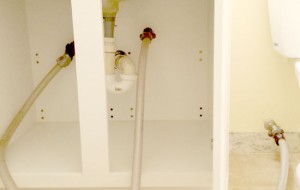 Not only do they not have to deal with tearing up walls and construction going on in their home but the smaller teams can repair this in a lot less time than traditional epoxy pipe lining jobs.
The Vacuum System
On the way out we were able to take a look at the giant vacuum system being used for this job that helps to pull out the debris and sand or any other materials used in the process.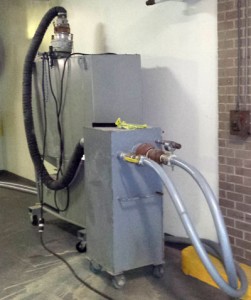 All in all it was a great experience for us and we are glad to have had the opportunity to work with this team of experts in their field on many more jobs in the future.