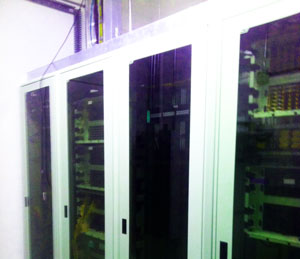 RGI contacted us in late August about a possible opportunity to work on a highly restricted Joint Force DOD base in Suffolk, VA.  The base was under a full renovation to bring the highly technical building up to date to house cyber warfare. During the construction, RGI found an 8″ vertical storm drain that was separated at several joints and dumping a large amount of water into the slab and soil.  They were worried about washout and future slab problems if they were let the water keep leaking into the slab. When they conducted a CCTV pipe inspection they saw the separations and located the breaks, to their misfortune they learned that bad pipe was right under a very expensive server that housed the some of our nations most creative and dangerous cyber warfare weapons.  Excavation was impossible and once again it was up to Dynamic Drain Technologies to come up with a solution to repair the pipe without any disruption to the server.
Dynamic Drain Saves Big Money Sliding Liners Into Storm Drains
We made this easy on all parties involved!  We were able to use our Perma-Liner Industries pipe lining system to install an 8″ epoxy flex liner into the existing pipe.  We needed the flex liner because there were 4 sweeping 90′ degree bends before the separated joints.  The lining crew was dispatched and the project was done in less than half a day. No floors were tore up and the server never missed a beat.