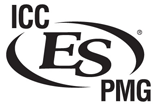 The ICC is the International Code Council dedicated to helping people build a safer world. The ES stands for Evaluation Service and PMG stands for the Plumbing, Mechanical and Fuel Gas industries. The ICC-ES has long been the industry leader in performing technical evaluations for code compliance. The provide regulators and contracting professionals with clear evidence that a product complies with codes and is up to the latest standards in the field.
After hundreds of evaluations of building products, components, methods and materials, the ICC-ES has a track record of proven excellence in product evaluations.
All sanitary sewer lining work done by Dynamic Drain Technologies utilizes systems that have been inspected, listed and recognized by the ICC-ES PMG council. The intent of these specifications for use with our applications in the cured-in-place-pipe (CIPP) systems is to guarantee that our products are held to the highest possible standards in the industry. It has been tested for use in the reconstruction of existing service laterals with minimal excavation by forming a new pipe within an existing deteriorated pipe. We use the installation method  where a resin impregnated flexible felt tube is inverted into an existing lateral utilizing a pressure apparatus positioned at a clean out, basement drain or similar access point. Curing is accomplished by ambient or heated compressed air or water being circulated into the pipe, drain or sewer system to form a hard, impermeable cured in place pipe that is guaranteed to extend the life of an existing pipe by 50+ years.
The ICC-ES also guarantees compliance with the International Plumbing Code (IPC) and the International Residential Code (IRC).
Having completed hundreds of evaluations of building products, components, methods, and materials, ICC-ES has a proven track record of excellence in product evaluations. This record extends to reports regarding sustainability under standards such as CALGreen (the California Green Building Standards Code), IgCC (International Green Construction Code), and other green rating systems.