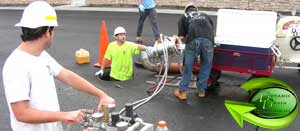 [youtube=http://www.youtube.com/watch?v=UM-GQZuvLZ4]
Dynamic Drain Technologies was called in to take a look at a 100-foot stretch of 14-inch drain line that was causing constant backups. This drain line just so happened to go underneath the kitchen of the Norfolk Scope. Norfolk Scope is a cultural, entertainment, convention and sports complex at the northern perimeter of the downtown Norfolk, Virginia area, comprising an approximately 11,000 person arena, a 2500-person theater known as Chrysler Hall, a 10,000 square foot exhibition hall and a 600 car parking garage.
Normal dig and replace pipe repair would have stopped business for weeks. This venue runs a 7-day a week kitchen service for events of all sizes.
Dynamic Drain was able to reline the existing service lateral drain and cut out the 8 connections with a robotic cutter. The down time only lasted for two-nights and saved the city of Norfolk thousands of dollars in excavation costs and downtime expenses. Proving once again that this sewer lining process is a great low cost alternative to repair sewer systems.
We specialize in commercial in-slab pipelining and have the latest and greatest in sewer repair technologies to repair drains, laterals, and conduits of all types. Our re-instatement cutter is specially designed so our technicians can cut in any kind of connecting pipe that enters a lateral. This tool is pneumatic and can fit in drains from 3″ in diameter and up. Pneumatic means air moves the hydraulics so it operates off of air pressure.  Give us a call and we will walk the job with you and demonstrate the benefits of our cured in place technology vs traditional digging and see which one will be the most beneficial to your situation.