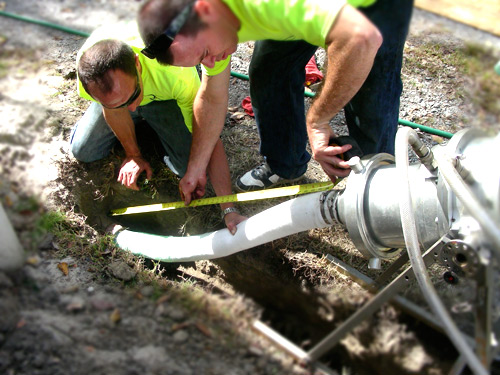 The main sewer drain is what carries household sewage to city owned municipal sewer lines and also to septic systems. Drains can suffer from many problems including root infiltration where tree roots start to crack and invade pipes in order to try and find water. This causes many plumbing problems for city officials, business owners and residents. The problem must be inspected with a camera that is inserted into the pipe. If the sewer pipe is unable to be inspected due to blockage or collapsed broken sewer pipes the drain must be cleaned out with our hydrojetter/waterjetter and re-inspected.
Keep your sewer flowing
In order to keep your sewer pipes flowing freely you should always follow a few important rules. Inspect in advance if you are buying a home. Add this to your checklist of things to look for in advance to spot any major problems before they arise. A small fee of around $300 could save you tons of money in the future. If you already own a home you should have a pipe inspection video saved in case any problems should arise in the future. Any reputable plumber will be able to provide you with this, we provide this via a USB thumb drive, cd/dvd and/or a YouTube video that you can send to anybody that needs to see it in the future.
How to fix your sewer, the trenchless way
Sewer Pipe lining or pipe bursting is also known as slip lining, cured in place pipe (CIPP), trenchless pipe repair, "no-dig" sewer technology and can save your existing landscape, buildings or structures from costly excavations. Preventative maintenance on sewer systems is very important, just like having a well maintained vehicle, making sure things are in good working order will assure years of uninterrupted service.
We are just a call or click away from helping you with your sewer wastewater repairs. Call 757-383-6611 today or contact us online today for a free evaluation.