Preventative maintenenace can save your city from unexpected disaster. Storms, breaks, collapsing infrastructure and aging sewer systems are vulnerable to damage that can cost tens of thousands of dollars to repair and cause cities to lose money from being forced to close down busy city centers. Be proactive and reinforce aging sewer and drain systems before it's too late!!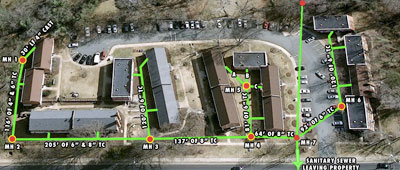 Now working with city officials on trenchless sewer repair projects and preventative mainenance campaigns. Since aging infrastructure is beginning to fail rapidly cities are being pro-active in their preventative maintenance campaign. They are inspecting pipes before they fail completely and finding tons of problems with inflow and infiltration (I&I), blockages and countless other problems due to damage from new construction, other repairs and aging in general. Our services will completely stop I&I problems and retain the lines integrity for another 50+ years. Also the need to stop traffic and compensate businesses for loss of revenue due to large excavations is almost completely eliminated!
Contact us today to receive an estimate for our trenchless pipe repair and drain cleaning and evaluation services.