A broken pipe isn't good, of course, but thanks to a repair method known as cured in place pipe, it may not have to be a disaster.
The easiest way to think of cured-in-place pipe (or CIPP) is that it is a pipe within a pipe. It was first successfully implemented in London in 1971. Since then, it's become widely popular as a timely and cost-efficient way to repair pipes.
How CIPP Works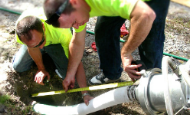 CIPP works by inserting a tube, usually made of polyester or resin-saturated felt, into a damaged pipe from an "upstream access point," like a manhole. The pipe is then cured with hot water, UV light or steam.
That stiffens the resin to form a jointless and corrosion-resistant repair to the broken pipe.
The final product is usually inspected via closed-circuit television.
Video: Pipe Repair with Cured In Place Pipe CIPP Lining – Trenchless No Dig Solution
by Dynamic Drain Technologies LLC

Advantages of Going with Trenchless Technology
One of the main advantages of CIPP is that it does not required excavation to address the pipe breakage. That's a very real benefit because it means your business won't have to deal with the messy, loud and expensive process of digging to get to the broken pipe.
Now, CIPP isn't the right remedy for every broken pipe. Some pipes are too large, and others are not a good candidate for this approach because the upstream access point is not readily accessible. Even so, CIPP is an excellent fix for many broken pipe situations.
If you are interested in learning more about CIPP and would like to speak to a D.C.-area firm about it, you are welcome to contact us.