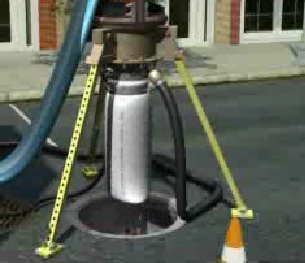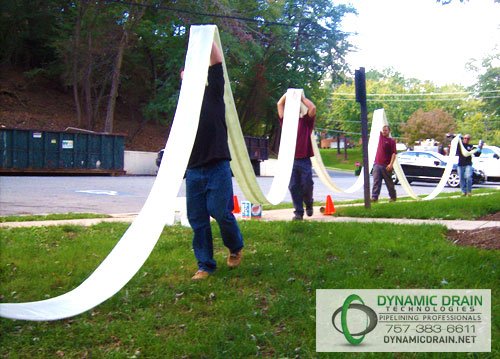 Wastewater sewer pipelining with cured-in-place pipe (CIPP) technology has been installed in over 19,000 miles of plumbing and piping infrastructures all over the world.
The process is suited for wastewater pipeline repair and can be used to rehabilitate sanitary sewers, storm sewers, force mains, electrical conduit, vent stacks and any other form of plumbing or piping infrastructure.
Dynamic Drain CIPP
Dynamic Drain Technologies has been at the forefront of this technology ever since it has been adapted for use on smaller scale pipe lines. Recent engineering has allowed trenchless technology to be applied to pipes in diameters ranging from 2-inches across all the way up to 36-inches and above in some cases.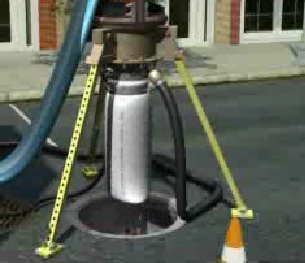 The invention of the CIPP technology started with a company called Insituform.
They formulated this technology to address the need for the rising number of aging sewer systems reaching the end of their design lives.
Aging sanitary sewer systems can cost hundreds of thousands of dollars to repair and finding a way to repair sewer systems without digging has changed the market in a huge way.
Perma-Liner and Maxliner Epoxy Pipe Lining Systems
Perma-Liner and Maxliner are two of the most notable companies when it comes to installing CIPP liners. Their equipment is second to none allowing companies like Dynamic Drain to offer our pipelining services to plumbers, businesses, property managers and facilities maintenance departments.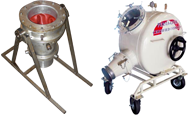 We utilize their inversion machines, lining materials and epoxies to formulate specific pipe specifications for any application. Whether your pipe or sewer system is in an extremely temperate area with varying hot or cold temperatures or if it contains specific chemical supply lines, our manufacturers can provide us with tested and proven solution to replace your pipes with engineered results.
Top concerns that CIPP can address are:
Revenue Loss Due to Infiltration and Exfiltration
Failing wastewater systems can cause drastic revenue loss. When an influx of water is entering or exiting your systems, treatment facility bills can cause extreme loss of revenue.
CIPP can eliminate leakage.
Infiltration and exfiltration can occur for many reasons: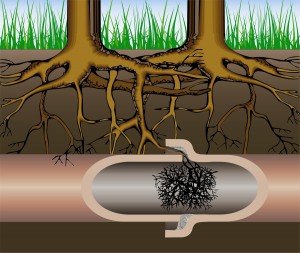 Root infiltration can cause blockages in your sewer systems and cause overflows to occur. This can also cause loss of water and damage lines.
Roots will seek out any source of water and are extremely resilient in their efforts. The slightest amount of condensation will attract tree and plant roots, especially in dry climates.
Defects in pipelines will allow roots to slowly infiltrate the line and completely damage the sewer lines. Once inside the line they can expand and create further cracking, causing an avalanche of problems within your pipelines.
Improper Installations – Offset Pipe – Missing Sections – Bottomless Cast Iron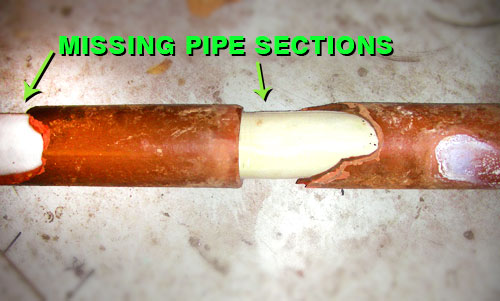 Improperly installed lines can also cause loss of water for obvious reasons, maybe a joint was not correctly connected and buried inside of a concrete slab. This can cause offset pipes over time. Sometimes pipes are left out all together and can cause missing pipes sections to ruin your entire drainage system.
All of these problems can be cured with a CIPP trenchless pipeline installation. The liner material when inserted into an existing pipeline will bridge any missing pipe sections.
If there is a crack or pipe missing the bottom due to rust or old age, a CIPP liner will completely cover and seal any imperfections in the line.
Shifting foundations, runoff, overhead traffic and many other forces can cause broken sewer pipes and drain pipes to occur.
CIPP will seal, smooth, repair and replace pipe lines, conduit lines, drain pipes, vent stacks and more.
Structural Integrity Restoration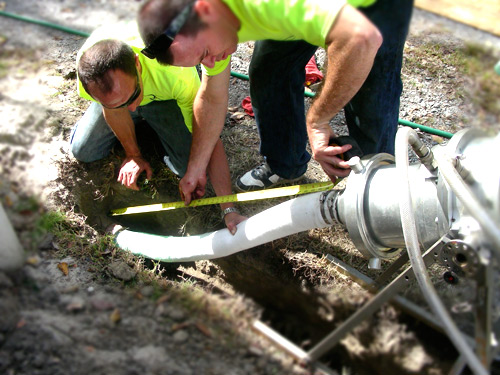 The CIPP pipe lining process uses a mixture of epoxy resin. The epoxies are then applied to the liners and inverted into pipes to create a single and continuous pipe-within-a-pipe. This will restore the structural integrity of a pipeline to better than new.
Over the last 40 years epoxy cured CIPP liners have been tested by engineers and independent studies to verify the strength and longevity of these liners.
Design models and engineers have confirmed that these pipe lines have design lives that are capable of lasting up to at least 100 years or more.
Increased Flow Capacity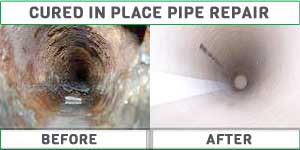 There is a small reduction in diameter of the pipelines containing CIPP liners. This has been proven to have zero adverse reactions to the flow.
In fact, flow capacity is significantly increased. Since the liners have zero joints and a smooth interior, flow capacity concerns and risks associated with clogging are all but eliminated.
There are no joints that will separate over time. And no risks associated with human err in reference to missing pipe sections or improperly installed lines or incomplete installation faults.
The resistance to abrasion also makes this a perfect solution for electrical conduit and other situations where lines are used to supply electricity, cable or any other wires or materials into a pipe.
CIPP Saves Money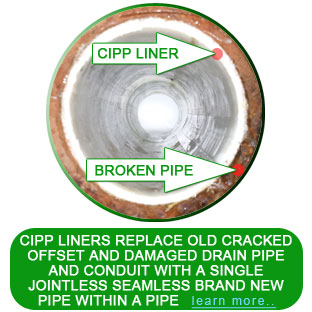 When compared to the pitfalls and costs associated with traditional dig-and-replace excavation techniques to repair and replace pipes, CIPP can easily save thousands of dollars.
Normally in-slab pipes require complete destruction of concrete walkways, walls or parking lots, etc. in order to access the pipe lines. This can cause hazards to customers and workers and require tons of time to accomplish often ruining priceless infrastructure in the process.
Pipelines that travel underneath roadways and natural habitats require traffic control, traffic congestion and unsightly repair work to occur above the ground. This also often requires heavy machinery and tons of workers. This increases liability and insurance issues associated with large excavation projects.
CIPP Advantages
With CIPP you can-
Completely avoid costs associated with damaging and repairing priceless structures.
You can avoid unsightly construction zones and damaged property.
You can avoid closures and inconveniences to residents, customers and employees.
And you can save time, since CIPP can repair 100's of feet of damaged pipes in a matter of days and in most cases one day.
Small Equipment and Small Job-site Footprints
The equipment used to install these CIPP epoxy liners is completely mobile and requires a very small access point and little real estate. Materials can be mixed and curated onsite and in very little time.
Small crews of usually 3-4 people can install 100's of feet of pipe at a time. We work completely in the background and often times without ever even disturbing normal traffic or business from continuing as usual.
Strict Standards
The CIPP and trenchless pipelining industry is held to the same standards and codes as your typical wastewater and pipeline rehabilitation restoration contractor. Often times we are even called to reinforce brand new pipelines that have been mistakingly installed and are not up to code.
We are licensed bonded and insured Class A Contractors. We are certified Perma-Liner and Maxliner installation specialists and have a large track record of working with some of the largest contracting firms on the East coast.
We have worked with the Architect of the Capitol on jobs such as roof drain repair on the Smithsonian and Capitol Building.
We have worked with the subway systems of New York City to repair leaking drain pipes in the City's subway systems.
And we have worked with large industrial plants and military installations providing solutions for highly sensitive areas and areas with extreme temperature changes.
Working with Us Is Easy
We offer our services to contractors and installations that are looking for a professional service in a timely manner. We focus solely on trenchless pipe repair methods and offer CCTV pipes inspections, pipe cleaning and clearing and CIPP installations. 
We are NOT plumbers and do not do any plumbing specific jobs. If you are a plumber and would like to learn more about our services we would love to come by and give you a demonstration on how you can offer CIPP to your customers and clients.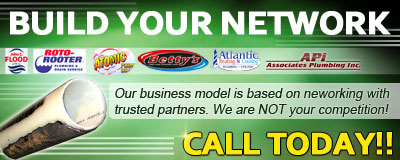 Any maintenance departments or facilities management departments should feel free to bring us in to explain our services to your board of directors. We have complete documentation and are able to give samples to any on-site engineers responsible for adhering to strict standards.
Give us a call if you have any questions and we will be happy to answer you with a knowledgable solution.
Every job is unique and we would love the opportunity to share how our trenchless pipelining rehabilitation methods can offer you the safest, quickest and most cost-efficient solution to solve your pipeline rehabilitation problems.