Repair Missing Pipe Sections Using Perma-Liner Cured In Place Pipe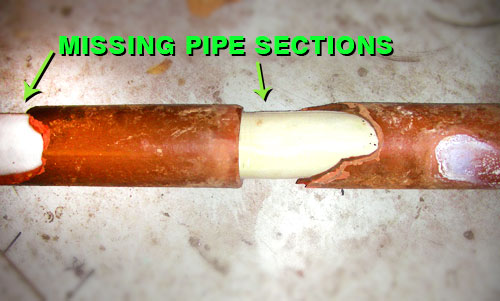 Missing pipe sections can now be repaired using epoxy coated felt liners. These liners will bridge missing pipe sections and create one long seamless and jointless pipe. After the line has been cleaned and cleared, the liner is inserted into the existing pipe and inverted throughout the pipe. Once in place, pressure is applied to the inside of the liner to maintain  a perfect circle throughout the line.
Not only is this effective but it can save money from having to dig up hundreds of feet of existing infrastructure that goes under expensive slab structures. Missing pipe often occurs where the foundation meets the rest of the pipe. The shifting soils cause breaks to occur and backups to form. Pipe joints often can crumble under the pressure of high traffic areas or heavy tree root infiltration.
Once we inspect the line to determine if we can repipe the line, we will clean and clear the line. Our sewer jetting nozzles and high pressure water jetter can cut through any obstructions like butter. Then the liner is installed and any reinstatements are cut out using our robotic cutter. Once all existing connections have been re-established and the line is re-inspected for completion, you are left with a seamless and jointless, pipe within a pipe. This new pipe is guaranteed by the manufacturer to last for a minimum of 50+ years.