HDPE is also known as "high density polyethylene" or "polyethylene high density".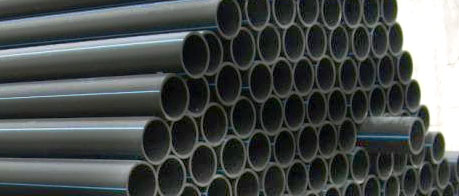 HDPE pipe has many uses for many municipal and industrial transmission systems.
Completely recyclable, it is a vulcanized chemical solution creating an extremely hard form of rubber polymer and forming one of the hardest and most impact resistant thermosetting plastics to date.
Most repairs on leaks in HDPE pipe can be done fairly simply and quickly. A quick application of duct tape, electrical tape, epoxy putty or fiberglass resin can fix a leaky HDPE pipe. If the extent of the damaged HDPE pipe is too extensive and cannot be repaired by an untrained person a professional plumber should be called to evaluate and repair the problem.
HDPE Piping Systems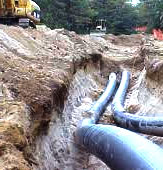 HDPE is resistant against many different solvents which is why it has been used in large appications of chemical resistant piping systems. It can also be used to protect steel pipe lines from corrosion and in geothermal heat transfer piping systems.
These pipes are slightly flexible which allows them to negotiate slight bends and elevation differences with ease without the need to apply extra joints creating possible areas for blockages to occur.
HDPE piping systems are most often used in the form of pipe bursting. The HDPE pipe is attached to the expander head and pulled into place via a pulling system powered by a hydraulic power pack. This type of sewer pipe lining is very versatile and can last for a very long time.
Advantages

HDPE pipe is extremely durable and resistant to extreme temeratures. It is fairly east to install into existing pipe lines that need to be re-inforced and can cover very long distances.
Limitations

Heavy machinery is often required to negotiate the pipe system into place. Sewer laterals can only be reconnected via excavation. Installation usually requires excavation at the insertion and receiving pits.