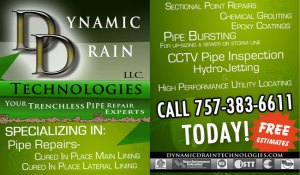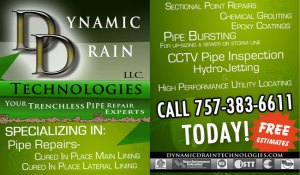 Have a broken pipe line in Chesapeake, Virginia? Is it going to cost you a fortune to excavate it? It won't if you call Chesapeake's own sewer lining experts, Dynamic Drain Technologies! Save THOUSANDS by calling today. Dynamic Drain offers a single access pipe relining system to rehabilitate existing pipelines without the need of extensive digging. Our pipe rehabilitation staff can rehabilitate existing service pipelines in 2″ to 12″ diameters in less then a day or even less then five hours. This method allows the liner to negotiate 22s, 45s, and sweeping 90 degree bends with ease. The liner rehabilitates the pipe for the next 50 years with no disruption or digging! Save roads, parking lots, slabs, driveways and landscaping. We now offer these services to commercial, industrial, residential and municipal clients in the Chesapeake, VA Area.
Pipe lining can fix:
Storm drains
Sewer drains
Vertical roof drains
Slab drains
Electrical conduits
Pool drains
Cast iron
PVC
Clay
Terra Cotta
Orangeburg
Etc.
CALL NOW MENTION THIS CHESAPEAKE VA BLOG AND RECEIVE A $99 DOLLAR CAMERA INSPECTION. (over a $230 value)