The Perma-Liner™ Sectional Point Repair System provides a structural repair without digging the existing pipeline or lining the entire pipeline.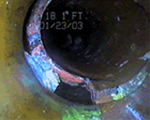 Pipeline video inspection has shown only six percent of sewer mains need repair. In the past five years, there has been an increase in municipal and industrial collection system owners utilizing sectional point repairs in place of digging or lining the entire pipeline.
This change has saved the municipal government agency hundreds of thousands of dollars and enabled them to repair multiple areas without additional funding.