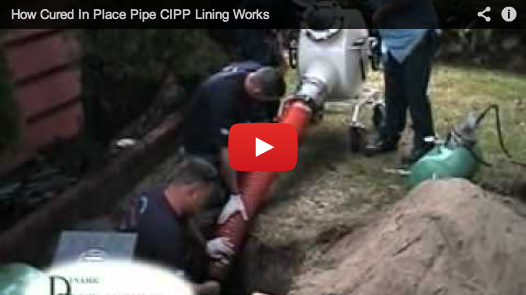 Our drain lining services in Hampton Roads have helped lots of businesses save time and their property from costly excavations. Want to learn how we do it? Watch these videos below to learn more now!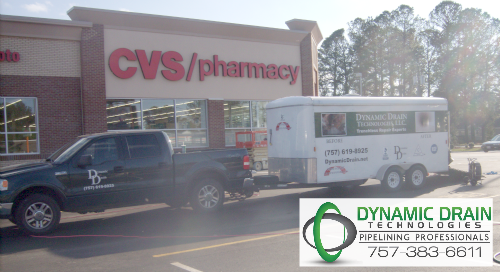 Drain Lining Videos by Dynamic Drain Technologies
Pipe Repair with Cured In Place Pipe CIPP Lining – Trenchless No Dig Solution
This short video below shows how our CIPP drain lining process is installed using trenchless and zero-dig methods.
Short video link: http://youtu.be/wL6aVCbfEK0
How Cured In Place Pipe CIPP Lining Works
This video goes into detail about the differences between traditional dig-and replace pipe and drain repair methods vs. CIPP trenchless technology. It is about eight minutes long but will answer any questions you may have about our drain lining technology!
8 minute video link: http://youtu.be/530q2HNADwk
Drain Cleaning Spartan 300 Video Pipe Inspection 
Check out this video of our Spartan 300 Drain Cleaning service removing grime and rust from a cast iron pipe. This de-scaling nozzle removes heavy build-up as part of our drain cleaning process. Drain lines must be cleaned and cleared before our CIPP drain liners can be installed.
4 minute video link: http://www.youtube.com/watch?v=6X5WFbxrCvg&feature=share&list=TLsUJiYQSH6XA
Many of our plumbing contractor partners in Hampton Roads have utilized our drain lining services: including contractors from CVS Pharmacy, many local restaurant chains and property management companies.
Lynnhaven Mall in Virginia Beach also replaced their drain lines using our company as well to avoid downtime and major excavations inside the mall.
We were able to complete the job overnight since there was very minimal excavation required to replace the drain lines under their stores and through the mall.
Give us a call today 1-855-937-6944.
We can give you free estimates and consultations directly over the phone!