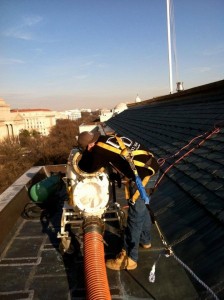 Finding a leaking roof drain is not a fun experience. If it is not repaired soon, it can cause major property damage slowly over time. If you think you have a problem with your rook leaking, hiring a professional to evaluate your situation is a smart thing to do.
A lot of times the building will not show signs of a leaky roof drain until a major storm system causes the roof to collapse. Other times slow leaks can cause mold and mildew to accumulate in the walls. This hazardous situation can cause many health problems if not attended to in a timely manner.
Wondering how to fix a roof drain in the DIY or do-it-yourself kind of way? If you decide to try and fix it yourself there are some good articles here: http://www.doityourself.com/stry/how-to-fix-a-leaky-roof-drain#b
There is also a thing called a Perma-Boot (http://www.permaboot.co/) that will allow you to install a high impact, UV protected TPO plastic boot over your existing roof boot drain on your home. This will work on slanted roofs and requires minimal technical knowledge.
Most commercial and industrial buildings have flat roofs with roof drains collecting water in depressed areas of the roof.
Our trenchless technology has allowed us to repair roof drains that were encased in asbestos columns without the need for excavation. They were in high traffic areas of busy cities that would have cost the owners tons of money to tear down to replace. We worked on multiple roof drains in a post office building without disturbing any customers or employees. Since our cured-in-place pipe repair system is extremely mobile we are able to lift our crew and equipment right up on the roof!
Please visit our cured-in-place pipe CIPP repair page to learn more about our trenchless technology.