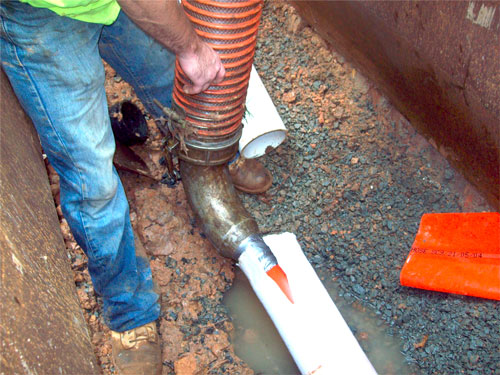 According to Wikipedia, PVC[1] is the third mostly widely used plastic in the world. It is used in construction since it is more effective than traditional materials like iron, copper, fiber pipe, concrete pipe and steel pipe. It is also more flexible.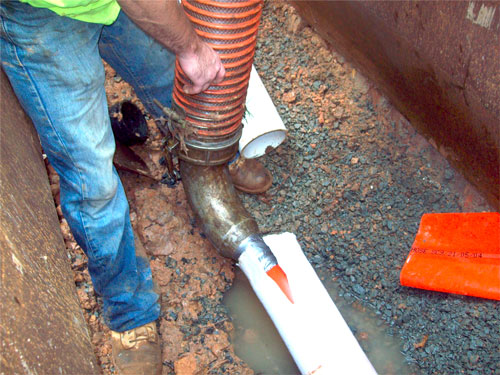 Since it has been used in such a wide variety of municipal and industrial applications it accounts for over half of the pipes we come across when called in to evaluate existing infrastructure. The low cost and added benefit of being resistant to corrosion also make it the go to pipe for sanitary sewer pipe applications. That being said, careful installations are  crucial to the longevity of PVC pipe.
Common Problems
The most common problems found with PVC pipes include cracking and bellying. Cracking can occur due to heavy traffic or shifting infrastructure over time. Also extreme temperatures can cause damage to PVC.
Bellying can occur when soil shifts and leaves the pipe suspended in the air. This can happen with heavy rains or leaking joints that cause dirt to erode away from underneath the pipe.
Replacing Old PVC Pipes
Our systems are able to inspect, clean, clear and replace old PVC infrastructure. If we can get a camera through the pipe, chances are we can install a liner to fully replace the pipe system without the need to dig up the pipe. We focus on smaller diameter wastewater and electrical insulation PVC pipes ranging from 2-inches to 12 inches in diameter.
DIY PVC Pipe Repair
For small problems with your pipes such as cracks less than 1-inch in length and easy access, a silicone sealer is your best bet. It can be applied directly to the damaged area and allowed to set.
If you have a cracked main water line that is more than just a hairline fracture, the PVC is recommended to be excavated and replaced. There are many items you can find at hardware stores that will assist you with small scale PVC pipe replacement such as a "slip fix" as shown below or a PVC pipe repair kit from Lowe's or Home Depot.