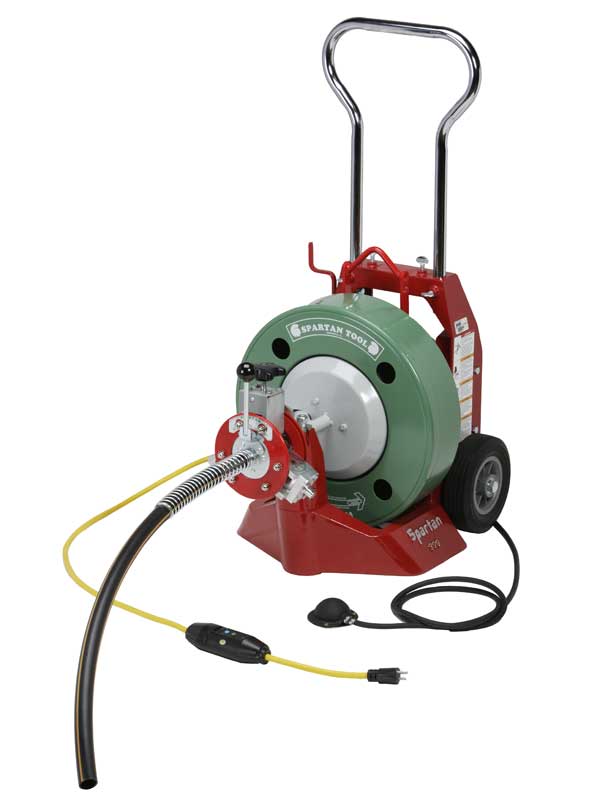 When a challenging job puts you in a tough spot, you can count on the Model 300 cable machine to get you out. With a compact design that makes it perfect for tight spaces and narrow doorways, the 300 touts exclusive features like our patented Dial-A-Cable power feed that automatically sends cable in and out of the line, and our whisper-quiet, gear-reduced Permanent Magnet motor for quicker torque and longer life. Plus, the motor's slip-clutch works to save your cable, and its 107 feet of cable capacity means that getting a compact machine doesn't mean you have to give up big power and performance.
Features
Clears Pipe Sizes ranging from 3″ – 6″ diameter
Cable capacity: 107′ of .55″ Magnum or 82′ of 5/8″ (with anchor/leader cable)
Weight: 138 lbs.
Size: 18″ W x 30″ H x 23″ D
Motor: 120 Volt / 4.2 Amps 4⁄10 HP
RPM: 300
Medium-weight machine with heavy-duty power for 3″ – 6″ lines up to 200′ when second drum used
Compact design allows operation in tight spaces and fits through the narrowest doorways
Whisper-quiet, gear-reduced Permanent Magnet motor with reverse capability, slip-clutch and watertight switch make Spartan's the quietest, most powerful machine in the industry
Accepts the Model 100 drum for added flexibility
Patented Dial-A-Cable power feed allows for quick cable changes and feeds cable in and out automatically
Independent rotating inner drum prevents cable kinking and buckling that can break cables
Quick interchangeable drum capability
Air-operated foot switch
Cable safety guide between machine and pipe
Direct drive with cable-saving slip clutch
25′ power cord with ground fault interrupter
Telescoping handle for compact storage
Optional compact lift wheel allows easy, wheeled loading into vans and trucks
Optional hoist bracket available for use with winches and lifting devices
Optional pneumatic tire upgrade kit available
For more information on the tools we use please visit the Spartan Tools website.